SOLD OUT 97 Years of RickMorty Fanzine
$

20.00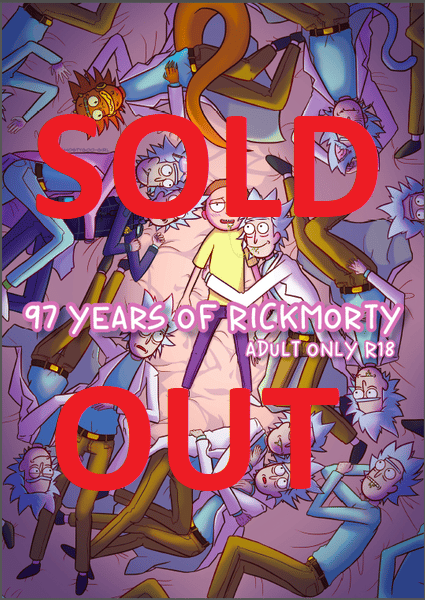 ITEM SOLD OUT!!!
Orders shipped in April/May 2018.
The RickMorty community's second-ever 18+ fanzine dedicated to erotic art of Rick and Morty! This full-color artbook features illustrations and comics done by fans for fans, celebrating the beloved characters from the show, Pocket Morty mobile game, and comic series. For those who "wish incest porn had a more mainstream appeal"!
- A4 page size (8.3 x 11.7")
- Perfect bound
- Matte cover treatment
- 75+ pages of never-before-seen content from 40+ talented artists
Optional Sticker Sheet sets available as an add on or for separate purchase (see other products listed).
**Must be 18 or older to buy!**
Rick and Morty and all related characters and elements are trademarks of and © 2013 THE CARTOON NETWORK, INC. Pocket Mortys and all related characters and elements are trademarks of and © 2015 THE CARTOON NETWORK, INC.
97 Years of RickMorty is an independent, non-profit project created by fans for fans and has no affiliation with the companies or entities involved in the production or ownership of the original works on which this fanzine is based. All characters herein depicted in sexual scenarios are aged 18+.
By preordering this zine, you are digitally confirming that you are at least 18 years old, and are legally able to purchase NSFW content.
All contributing artists retain copyright and any trademark to their work except for those intellectual property elements such artist does not own. Please do not copy, post, reproduce, download, distribute, make public, or use any of the contents in any other fashion without consulting the artists. Artist information can be found in the table of contents.
Second printing, Edition of 50, March 2018